Bathroom Remodeling
From timely and complete installations to high quality products, Cabinet PRO creates baths that fit your lifestyle and budget.
It's All About the Tile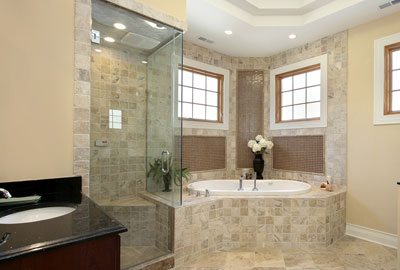 It's All About the Tile . . .
In a typical bath remodeling project, tile plays the largest role. Floors, shower or bath stalls, tub decks and surrounds - there is normally extensive tile work involved. Design alternatives, such as mixing textures, sizes and colors, and creating decorative borders and inlays can create stunning results.
Choose our expert design and installation staff to ensure your bath tile is as functional as it is beautiful and will withstand the test of time.
Replace or Reface?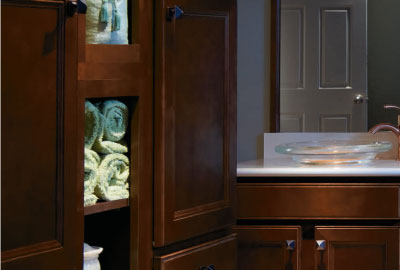 . . . And the Cabinets!
Cabinet refacing can save you up to 50%. If you're pretty satisfied with your current bath layout, and your cabinet frames are in good shape, then refacing may be a better option for you.
If you'd like to change the current layout or your cabinet frames are not structurally sound, then new cabinets may be a better option.
Mix and Match: Reface your vanity cabinets, and add a new bench or linen cabinet in a coordinating color.
Reface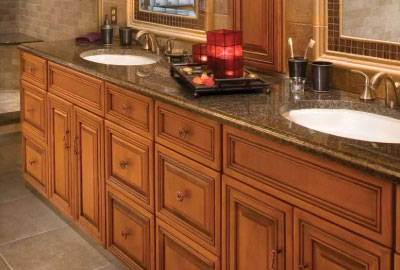 Cabinet Refacing
Cabinet refacing has many upsides. It can save you money, and it is a fast and efficient way to update your kitchen quickly.
Because you can reface your cabinets without changing your vanity tops, sinks and faucets, you can update your bath over time. This can allow you to spread your remodeling dollars over a period of several years, refacing now, then replacing other items at a later date.
Replace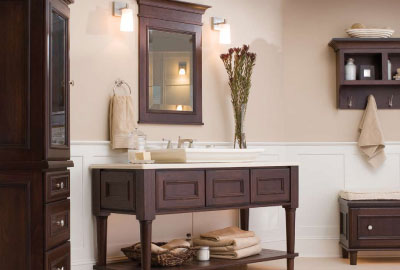 New Bath Cabinets
New cabinets also have many positives. Selecting new cabinets gives you free reign to get the exact layout and cabinet options that work perfectly for you and your lifestyle.
Our talented designers will work closely with you to provide you with ideas and options that will give you the most function and beauty for your remodeling dollar.
Design Options
Vanity Tops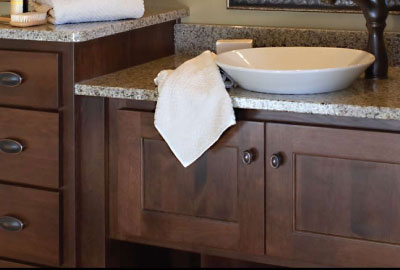 Vanity Tops
There is an abundant choice of vanity top materials, colors and finishes that will complement and enhance any design. We can assist you with the selection process and help you to choose the tops that will best suit your needs.
Marble and granite tops that coordinate with tile selections are often chosen for bath vanities with stunning results, and, because of their relatively small size, are surprisingly affordable. Let our design staff help!
Sinks and Faucets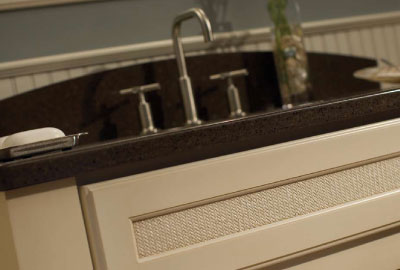 Sinks and Faucets
Choose from beautiful standard sinks or exotic vessel sinks, reminiscent of antique washbasins. Coordinate all of your faucets and accessories by selecting from a style line or mix and match lines. Large lines include lavatory faucets, shower faucets, tub and roman tub faucets, tissue dispensers, towel bars and more. Built-in soap dispensers can save space and remove clutter from a small bath sink.
Make an artistic statement with your design choices - it's easy - we can help!
Featured Bath Remodeling Projects
Click images for enlarged view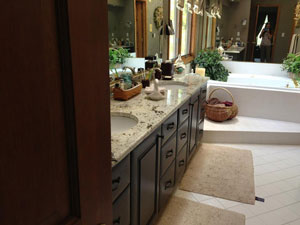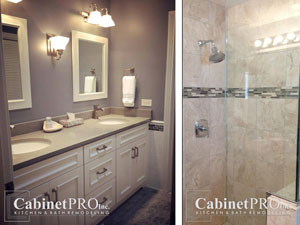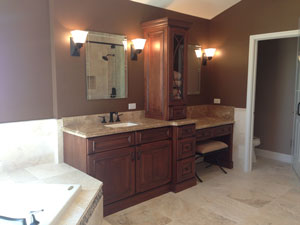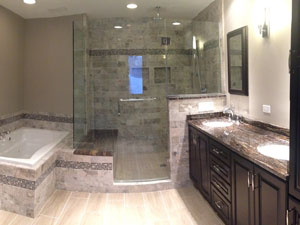 Call the Pros!
Process

Our Remodeling Process
We know how stressful remodeling can be - from selecting the right product, to getting the best price, to signing up the right contractor. Our process is both effective and efficient, saving our customers time and money.
We do hundreds of projects every year. With over 25 years of experience, our methods are well proven and set us apart from our competitors. We're confident that you won't find a better price for the same workmanship and materials.
1. Consult

Step 1: In-Home Consultation
The process begins by meeting with you in your home to understand your needs and provide you with ideas and advice about your project.
Our talented designers will make suggestions for changes that you might not otherwise think of that could enhance your project and give you more satisfactory results. We bring samples to your home so you can see the colors and styles in your home before making your decision.
2. Design

Step 2: Design
Once you've met with our designers, we will take your ideas back to our office and create a design that fits your lifestyle and needs, staying within your specified budget.
We provide you with a CAD design of your floorplan that will give you a good idea of how your new bath could look. If you're doing a full remodeling project, your design could include ideas for cabinetry, flooring, tiling, lighting, countertops, sinks and fixtures.
3. Approve

Step 3: Review and Approve
When the design is complete, we'll meet with you to answer any questions you might have and make modifications where necessary. We will assist you in making all of your selections from cabinetry to countertops, flooring and lighting, and everything in-between.
It's your choice to purchase any of the materials independently, or to have us order them for you. We install everything you will need to complete your job. While this may seem a daunting task with so many different options from which to choose, you'll be surprised at how easy the selection process can be with the help of our talented design staff.
4. Order

Step 4: Order Materials
After you make your final selections, a contract is signed and we order the materials. Our 2000 square foot showroom adjoins our manufacturing facilities, allowing us to complete your project more efficiently.
By shipping materials to our warehouse, we're ready when we begin your job, equipped with everything we need to complete your project as efficiently and with as little disruption to you as possible.
5. Install

Step 5: Schedule and Install
When all materials are assembled, we schedule your installation at a time that's most convenient for you. We handle and coordinate all aspects of the installation, including the cabinetry, vanity top, flooring, plumbing and electrical.
We are experts at installation and are fully licensed, bonded and insured. Our project management skills are among the best in the industry and we complete our projects with as minimal disruption to our clients as possible.
6. Complete

Step 6: Complete the Job
Cabinet PRO sells only the best quality products in the industry - many of which come with their own product / material guarantees. Because we supervise and control the quality of the work manufactured by our fabricators and installers, we are confident that you will be completely satisfied with your selected products. We're not finished until you're satisfied! If something is not quite right, we'll fix it!