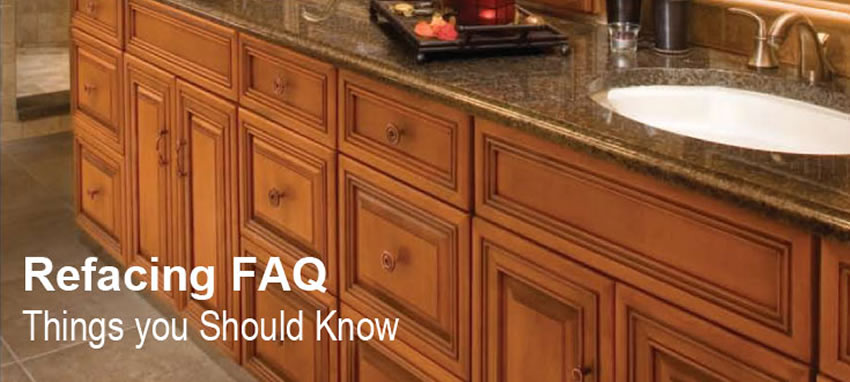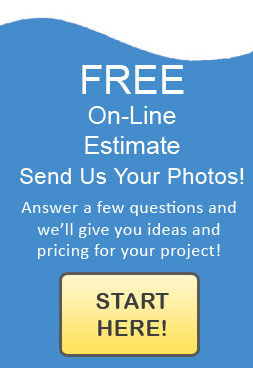 Cabinet Refacing FAQ
At Cabinet PRO, we have over 25 years of experience in cabinet refacing. You can trust our talented craftsmen, high standards, and attention to details to make the "Cabinet PRO difference".
We've compiled a list of questions most frequently asked by our refacing customers below. Browse through this section for cabinet refacing questions and answers and call us with any additional questions or for a FREE in-home price quote. Visit our showroom to see examples of refaced cabinets and to browse our large selection of cabinet doors and finishes.
What's the cabinet refacing process - what's involved?
First you select new cabinet doors from our wide variety of styles and finishes. Then, we get to work! Our methods have been proven over the years and have set us apart from our competitors. We begin by removing and discarding your old cabinet doors and hinges. Then we strengthen and repair cabinet frames where needed. The next step is to carefully prepare the exposed frames to ensure a solid bonding. This may include sanding the frames. Next, we laminate all exposed frames with a matching wood or laminate, depending on the door material you've selected. Our special "two-part bonding system" includes the use of a special manufacturer-recommended glue, which, when applied to both panel and frame, ensures a unique bond. Finally, we conclude with the installation of your new cabinet doors, drawer fronts and hardware.
How long does it take for cabinet refacing? How inconvenient is it?
A cabinet refacing job takes a fraction of the time that a job with cabinet replacement takes. Depending on the size of the job, cabinet refacing can take from 1 to 4 weeks. Since we do not tear out frames, the mess is kept to a minimum. Our installers clean up every evening to allow you the use of your kitchen throughout the process.
What's the cost of cabinet refacing and how is it different than purchasing new cabinets?
Because we use your existing cabinet framework, usually a 40% - 60% savings can be achieved with cabinet refacing. We tell you up front what your total cost will be. We don't give you estimates. We give firm prices. We'll also give you new cabinet pricing, so you can compare and make an informed decision.
I may want to add or remove some cabinets in my kitchen. Do you do that?
Yes. We can build additional cabinets and even add new drawers to your base cabinets. We can also take out or cut down your existing cabinets to fit new appliances. We can provide rollouts, lazy Susans, new shelving and trim. New custom islands are our specialty.
What is your cabinet refacing warranty?
All of our doors are warranteed by the manufacturer. Our refacing work is warranteed for 10 years. Relax! You're covered with the Cabinet PRO guarantee!