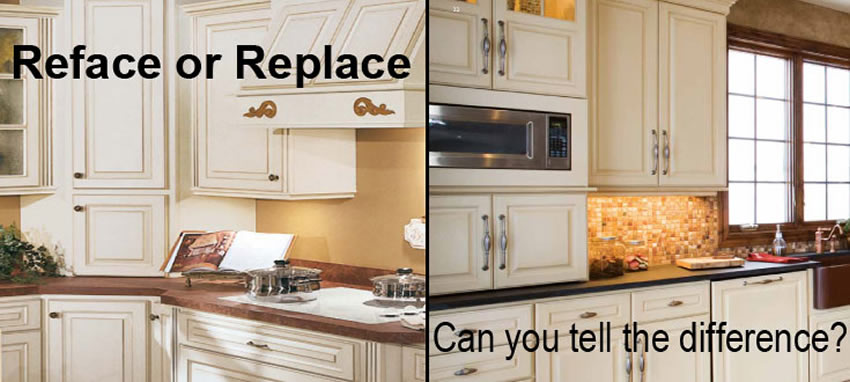 Reface or Replace your Kitchen Cabinets?
If you're considering a kitchen remodeling project that includes cabinets, you may have more options than you might otherwise think. Cabinet refacing can get you nearly the same results as new kitchen cabinets and save you up to 50% off the price of new cabinets. If you're pretty satisfied with your basic kitchen layout, and your cabinet frames are in pretty good shape, then refacing may be a better option for you. On the other hand, if you don't like the current layout of your kitchen and your cabinet frames are not structurally sound, then new cabinets may be a better option.
There are many ways to embellish and enhance the look of your cabinets with refacing - you don't have to replace your cabinets to achieve elegant results. You may want to consider a hybrid approach - reface your base cabinets, and add new cabinetry to achieve a different layout or a new island in a contrasting color. There are a multitude of options.
Cabinet Refacing
Cabinet refacing has many upsides. It can save you money, and it is a fast and efficient way to update your kitchen quickly. Because you can reface your cabinets without changing your countertops, sinks, and faucets, as is required with new cabinetry installations, you can update your kitchen over time. This can allow you to spread your remodeling dollars over a period of several years, refacing now, then replacing countertops at a later date. Check out our Refacing Gallery to see some of the many options in cabinet refacing.
New Kitchen Cabinets
New cabinets also have many positives. Selecting new kitchen cabinets gives you free reign to get the exact layout and cabinet options that work perfectly for you and your lifestyle. Our talented designers will work closely with you to provide you with ideas and options that will give you the most function and beauty for your remodeling dollar. View our Kitchen Gallery to see some of the many different styles we offer in kitchen cabinetry.
Want to learn more about your options? Schedule a free in-home consultation using the form at the top of this page, and get expert design advice to allow you make a more informed decision. Whatever your choice, rest assured that Cabinet PRO has the quality products and installation expertise to get you the results you're looking for - every time!