Custom Cabinets by Cabinet Pro
Cabinet PRO is a leading retailer of custom cabinetry in the Chicago area, offering a wide range of custom cabinets for your kitchen, bath, media room, office or laundry room.
Kitchen Cabinets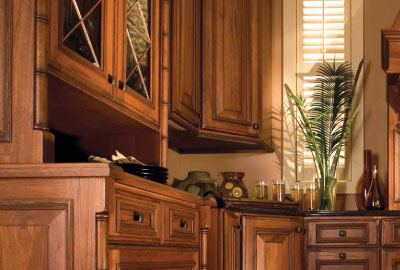 Kitchen Cabinets
We carry an enticing blend of wood species and finishes to satisfy any design style. Mix wood species with distinctly different finishes, add architectural elements, ornately carved corbels, sculpted crown moldings, turned posts, beveled glass doors, or a contrasting island to create a unique and visually intriguing design.
Embellish painted cabinets with glaze or distressing, or our "Country Traditions" detailing. Let our designers help you to achieve the exact look you're going for - it's easier than you think.
Bath Cabinets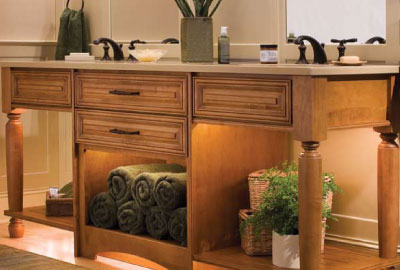 Bath Cabinets
Vanity Cabinets or Tables can be built-in or stand-alone, and may be paired with coordinating cabinetry for stunning designs. Unique details like oversized legs can create a compelling look below a vanity console and bring big design to small powder rooms.
Linen Cabinets with beveled glass doors, a bath bench offering a cozy seat, a convenient stack of drawers between double sinks or on both sides of a single basin vanity - the possibilities are endless.
Media Cabinets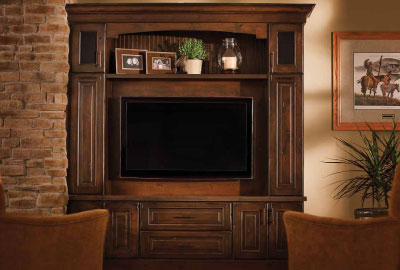 Media Cabinets
Our entertainment cabinetry is designed to fit the conventional sizing requirements for media components and to fully integrate all of your components into the cabinetry.
You can visually tie the media center to your kitchen or other rooms by mixing and matching the cabinetry styling, details and finishes throughout your home for a well-coordinated look. The cabinetry will have all of the functionality, beauty and durability that you've come to expect from our luxury cabinet manufacturer.
Cabinets for Other Rooms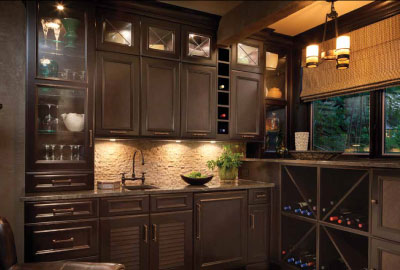 Cabinets for Other Rooms
Extend furniture-quality cabinetry into other areas of your home to create architectural and design consistency in matching or coordinating designs, woods and finishes.
Fireplace surrounds with elegant mantels, carved corbels, frieze and columns can be chosen to perfectly coordinate with your kitchen cabinets. Appoint your front entry with a "mirrored hall tree". Outfit the mud room or laundry room with a Boot Bench and Lockers for each individual family member.
Our Cabinet Brands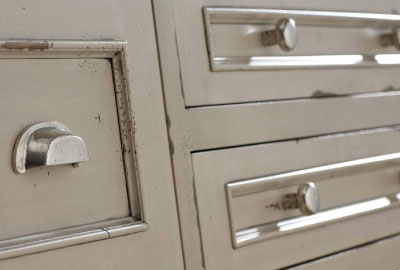 Our Cabinet Brands
From our standard stock line to our semi-custom and full custom cabinet lines, we can install the cabinetry in the style and finishes you desire - and at a price that meets your budget.
We can help you with everything from selecting a layout that best fits your room and lifestyle, to designing custom cabinets with unlimited choices of styles, materials and finishes to create a one of a kind dream room exactly to your specifications.
Dura Supreme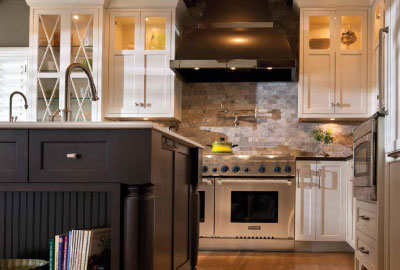 Dura Supreme Cabinetry
At this Minnesota-based manufacturer, your cabinets aren't built until they're ordered, so that each is tailored to your specific needs. Introduce the contemporary styling of Europe to your home with the custom built Alectra line. Or, create a look all your own with Dura Supreme's Designer series, with unique options such as curved and decorative glass doors. Most of the cabinetry photos on our website are from the DuraSupreme line. You can duplicate any of these photos in your own home - ask us how! View the Dura Supreme website.
Homecrest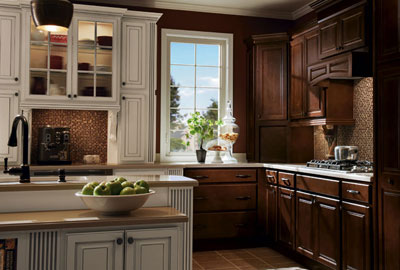 Homecrest Cabinetry
This Indiana-based semi-custom cabinet manufacturer offers over 300 style and finish combinations, allowing you to create unique one-of-a-kind quality cabinets at affordable prices. Their Custom Choice options let you modify existing designs to fit virtually any room or application. View the Homecrest website.
Get Organized!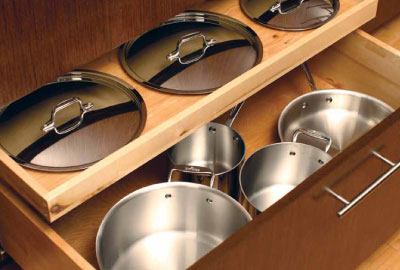 Get Organized!
Consider everything that's currently in your kitchen. Are all baking pans stored together? Are your most frequently used cooking tools in the most convenient places? If the answers to any of these questions is "no", your cabinets may benefit from an organizational overhaul! By planning where all items will be stored in your kitchen cabinets, you will have a better understanding of your storage dilemmas and also the products available to solve your organizational needs.
Filler Cabinets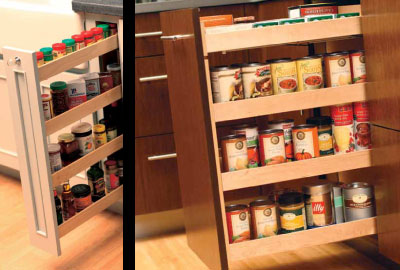 Filler Cabinets
Pullout filler cabinets can maximize space that would otherwise be wasted. Spices, baking sheets, and canned goods are all options for a filler cabinet pullout.
Pullouts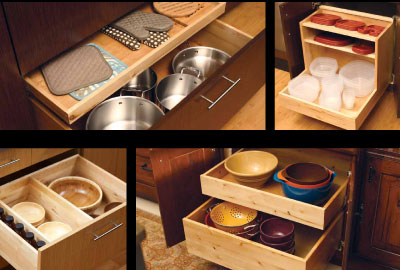 Pullouts
Adding pullout drawers to your base cabinets makes retrieving pots and pans a breeze, even in back corners. Recycling is easy to manage with our handy pullout recycling center.
Storage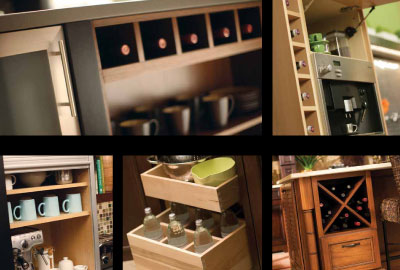 Storage Solutions
Other popular storage solutions include Lazy Susan shelving, "half-moon" racks to take advantage of corner space, vertical slots for trays and baking sheets, pantry organizers that can include pull-out drawers or pull-out wire baskets, spice drawer organizers, appliance garages, open bookshelves to keep cook books handy, and a variety of built-in wine racks.
Knobs & Pulls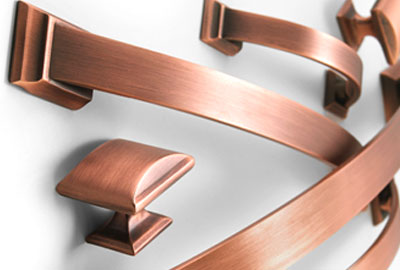 Knobs and Pulls
Häfele offers more than 3,500 cabinet knobs, handles and pulls in a variety of sizes, styles and finishes. Available in stainless steel, brushed, nickel, antique brass, pewter, oil rubbed bronze, matt, polished, and chrome finishes. Style selection includes: modern, traditional, arts & crafts, funky and more.
Amerock is continuously introducing new designs, colors and finishes based on surveys of decorating trends and consumer preferences. Amerock brings fresh, lasting looks to appeal to a wide variety of tastes.
Featured Cabinet Projects
Click images for enlarged view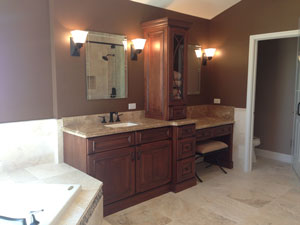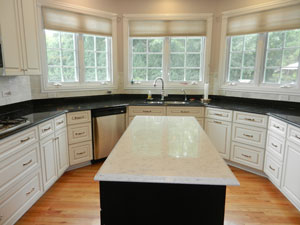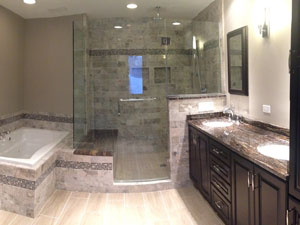 Get More Inspiration. View the Kitchen Gallery, Bath Gallery, or Other Rooms Gallery
Process

Our Remodeling Process
We know how stressful remodeling can be - from selecting the right product, to getting the best price, to signing up the right contractor. Our process is both effective and efficient, saving our customers time and money.
We do hundreds of projects every year. With over 25 years of experience, our methods are well proven and set us apart from our competitors. We're confident that you won't find a better price for the same workmanship and materials.
1. Consult

Step 1: In-Home Consultation
The process begins by meeting with you in your home to understand your needs and provide you with ideas and advice about your project.
Our talented designers will make suggestions for changes that you might not otherwise think of that could enhance your project and give you more satisfactory results. We bring samples to your home so you can see the colors and styles in your home before making your decision.
2. Design

Step 2: Design
Once you've met with our designers, we will take your ideas back to our office and create a design that fits your lifestyle and needs, staying within your specified budget.
We provide you with expert assistance in designing your floorplan so that you will have a good idea of how your new cabinets could look. If you're doing a full remodeling project, your design could include ideas for cabinetry, flooring, tiling, lighting, countertops, sinks and fixtures.
3. Approve

Step 3: Review and Approve
When the design is complete, we'll meet with you to answer any questions you might have and make modifications where necessary. We will assist you in making all of your selections from cabinetry to countertops, flooring and lighting, and everything in-between.
It's your choice to purchase any of the materials independently, or to have us order them for you. We install everything you will need to complete your job. While this may seem a daunting task with so many different options from which to choose, you'll be surprised at how easy the selection process can be with the help of our talented design staff.
4. Order

Step 4: Order Materials
After you make your final selections, a contract is signed and we order the materials. Our 2000 square foot showroom adjoins our manufacturing facilities, allowing us to complete your project more efficiently.
By shipping materials to our warehouse, we're ready when we begin your job, equipped with everything we need to complete your project as efficiently and with as little disruption to you as possible.
5. Install

Step 5: Schedule and Install
When all materials are assembled, we schedule your installation at a time that's most convenient for you. We handle and coordinate all aspects of the installation, including the cabinetry, countertop, flooring, plumbing and electrical.
We are experts at installation and are fully licensed, bonded and insured. Our project management skills are among the best in the industry and we complete our projects with as minimal disruption to our clients as possible.
6. Complete

Step 6: Complete the Job
Cabinet PRO sells only the best quality products in the industry - many of which come with their own product / material guarantees. Because we supervise and control the quality of the work manufactured by our fabricators and installers, we are confident that you will be completely satisfied with your selected products. We're not finished until you're satisfied! If something is not quite right, we'll fix it!