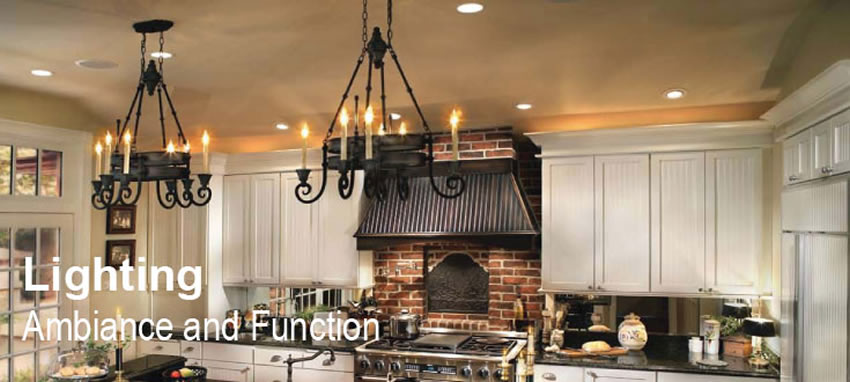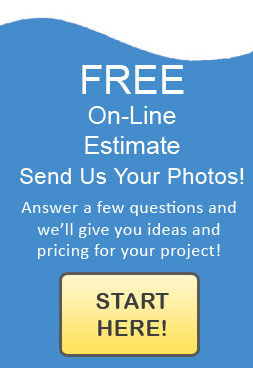 Kitchen Lighting Options
Let your kitchen shine with just the right lighting fixtures. We often hear our customers say that the lighting is the part of the remodeling job that they like the best and that they could not do without. We agree - lighting makes all the difference. We can add recessed lights, chandeliers, pendants and under-cabinet lighting to show off the beauty of your newly remodeled kitchen.
Recessed Lighting
Replacing dated kitchen ceiling fixtures with recessed (can) lights is a cost effective option that is as functional as it is aesthetic. Our talented electrical designer can place recessed lights in all areas of your kitchen to light even the darkest corners. You will never feel that you don't have enough light to work in your kitchen again. Add a dimmer switch, and the brightly lit kitchen area becomes a softly lit ambient refuge for dining or relaxing.
Pendant Lights
Adding pendant lighting over an island can add to the design of your kitchen as well. From eclectic to antique, you can achieve beautiful results that will enhance your design while adding functionality.
Chandeliers
A well-designed chandelier can also add both form and function to your newly remodeled kitchen. Updating chandeliers over your kitchen or dining table can pull the entire design together, and is a natural finishing touch for your project.
Under-cabinet Lighting
Under-cabinet lighting can make a huge difference in your ability to see dark countertop areas. You will never have a dark area of your kitchen again. Our talented electrical staff can install your under-cabinet lights to work on a wall switch, and even put a dimmer on them.
Our design staff can assist you with all of your lighting selections. We install all lighting as part of your kitchen remodeling job. Let our designers suggest lighting alternatives that will enhance your design and have you wondering how you ever lived without them.