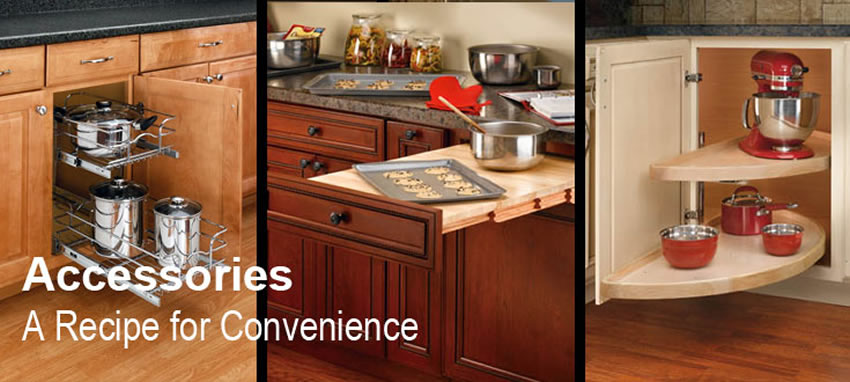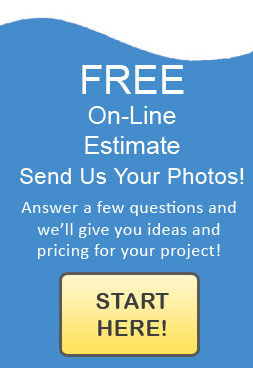 Cabinet Hardware and Accessories
Add the finishing touch to your refaced kitchen by selecting from some of today's top designs in cabinet hardware and accessories. From perfectly shelved pantries to pull-out garbage bins, it's these extra hidden features that will have you loving the insides of your cabinets every bit as much as the outsides.
Cabinet Accessories
Consider everything that's currently in your kitchen. Are all baking pans stored together? Are your most frequently used cooking tools in the most convenient places? If the answers to any of these questions is "no", your cabinets may benefit from an organizational overhaul! By planning where all items will be stored in your newly refaced kitchen cabinets, you will have a better understanding of your storage dilemmas and also the products available to solve your organizational needs.
Adding pull-out drawers to your base cabinets makes retrieving pots and pans a breeze, even in back corners. No more having to get on your hands and knees to get to those hard-to-reach bottom shelves. Other popular storage solutions include Lazy Susan shelving, "half-moon" racks to take advantage of corner space, vertical slots for trays and baking sheets, pantry organizers that can include pull-out drawers or pull-out wire baskets, spice drawer organizers, appliance garages, open bookshelves to keep cook books handy, and a variety of built-in wine racks.
Recycling can become a snap with our handy recycling center. Make kitchen clean up a breeze by adding a tilt-down drawer front by your kitchen sink to store your sponges.
Rev-A-Shelf offers a full line of Cabinet Storage Organizing Accessory products that have distinct advantages in strength, design, ease of installation and aesthetics. Visit their Website for more information. Visit our showroom and let our design consultants assist you in organizing your kitchen.
Cabinet Hardware
Häfele offers more than 3,500 cabinet knobs, handles and pulls in a variety of sizes, styles and finishes. Available in stainless steel, brushed, nickel, antique brass, pewter, oil rubbed bronze, matt, polished, and chrome finishes. Style selection includes: modern, traditional, arts & crafts, funky and more.
Amerock is continuously introducing new designs, colors and finishes based on surveys of decorating trends and consumer preferences. Amerock brings fresh, lasting looks to appeal to a wide variety of tastes.