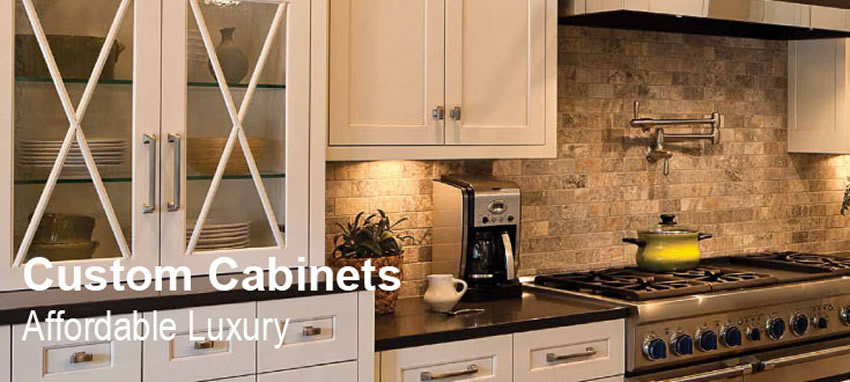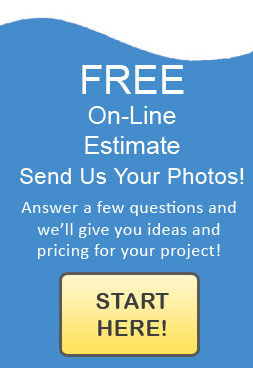 Our Cabinet Brands
Cabinet PRO is a leading retailer of custom cabinetry in the Chicago area, offering a wide range of custom cabinets for your kitchen, bath, media room, office or laundry room.
Our Cabinet Brands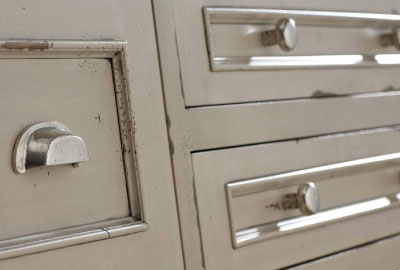 Our Cabinet Brands
From our standard stock line to our semi-custom and full custom cabinet lines, we can install the cabinetry in the style and finishes you desire - and at a price that meets your budget.
We can help you with everything from selecting a layout that best fits your room and lifestyle, to designing custom cabinets with unlimited choices of styles, materials and finishes to create a one of a kind dream room exactly to your specifications.
Dura Supreme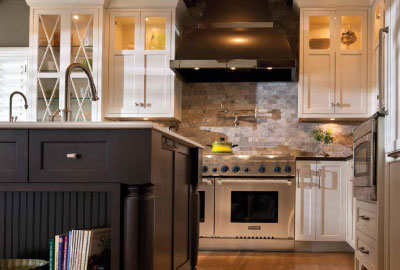 Dura Supreme Cabinetry
At this Minnesota-based manufacturer, your cabinets aren't built until they're ordered, so that each is tailored to your specific needs. Introduce the contemporary styling of Europe to your home with the custom built Alectra line. Or, create a look all your own with Dura Supreme's Designer series, with unique options such as curved and decorative glass doors. Most of the cabinetry photos on our website are from the DuraSupreme line. You can duplicate any of these photos in your own home - ask us how! View the Dura Supreme website.
Homecrest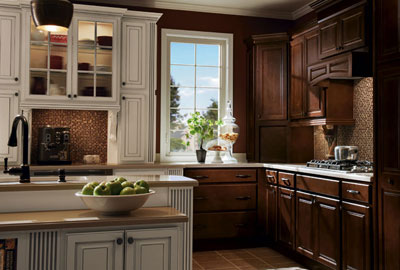 Homecrest Cabinetry
This Indiana-based semi-custom cabinet manufacturer offers over 300 style and finish combinations, allowing you to create unique one-of-a-kind quality cabinets at affordable prices. Their Custom Choice options let you modify existing designs to fit virtually any room or application. View the Homecrest website.
Get Organized!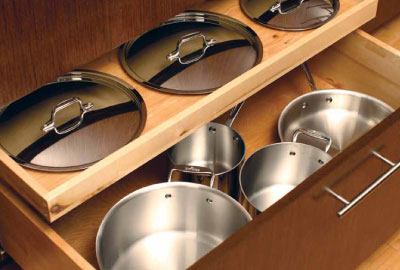 Get Organized!
Consider everything that's currently in your kitchen. Are all baking pans stored together? Are your most frequently used cooking tools in the most convenient places? If the answers to any of these questions is "no", your cabinets may benefit from an organizational overhaul! By planning where all items will be stored in your kitchen cabinets, you will have a better understanding of your storage dilemmas and also the products available to solve your organizational needs.
Filler Cabinets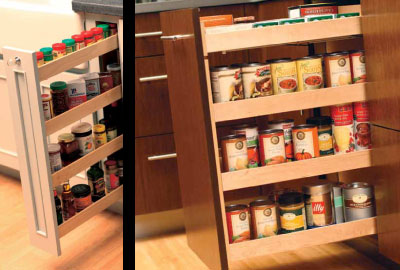 Filler Cabinets
Pullout filler cabinets can maximize space that would otherwise be wasted. Spices, baking sheets, and canned goods are all options for a filler cabinet pullout.
Pullouts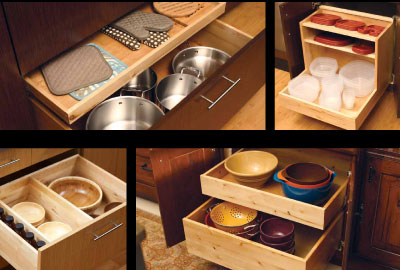 Pullouts
Adding pullout drawers to your base cabinets makes retrieving pots and pans a breeze, even in back corners. Recycling is easy to manage with our handy pullout recycling center.
Storage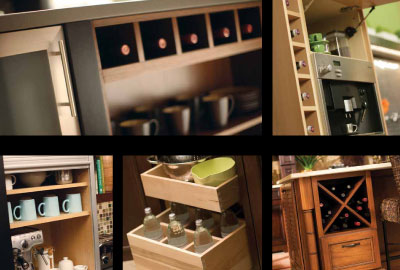 Storage Solutions
Other popular storage solutions include Lazy Susan shelving, "half-moon" racks to take advantage of corner space, vertical slots for trays and baking sheets, pantry organizers that can include pull-out drawers or pull-out wire baskets, spice drawer organizers, appliance garages, open bookshelves to keep cook books handy, and a variety of built-in wine racks.
Knobs & Pulls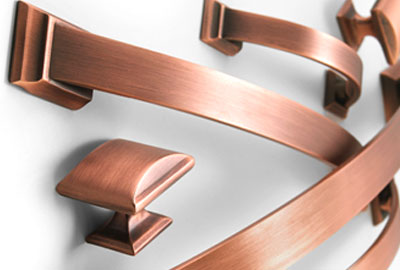 Knobs and Pulls
Häfele offers more than 3,500 cabinet knobs, handles and pulls in a variety of sizes, styles and finishes. Available in stainless steel, brushed, nickel, antique brass, pewter, oil rubbed bronze, matt, polished, and chrome finishes. Style selection includes: modern, traditional, arts & crafts, funky and more.
Amerock is continuously introducing new designs, colors and finishes based on surveys of decorating trends and consumer preferences. Amerock brings fresh, lasting looks to appeal to a wide variety of tastes.
Featured Cabinet Projects
Click images for enlarged view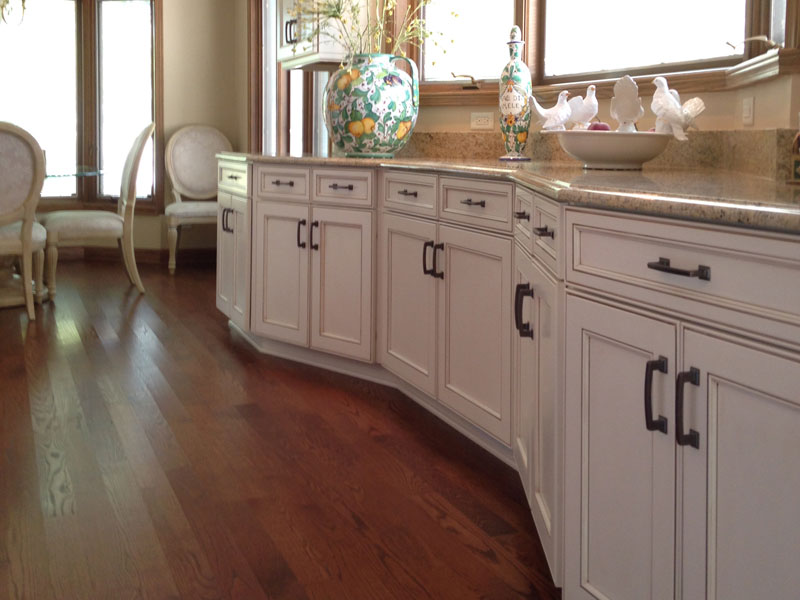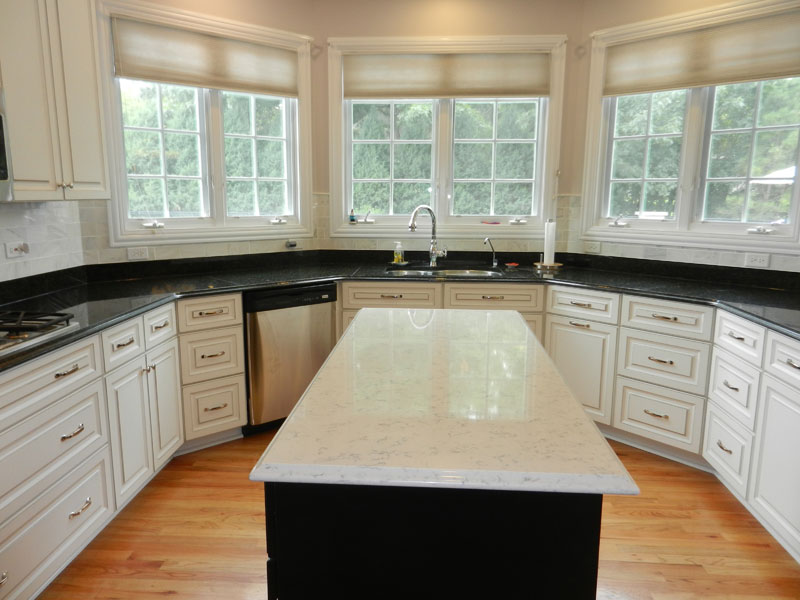 Get More Inspiration. View the Kitchen Gallery